Acupuncture Treatment of Diabetic Neuropathy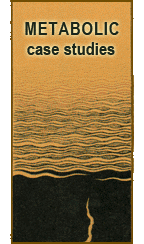 Chief Complaint: weakness and numbness in the legs
Western Diagnosis: Diabetic Neuropathy
History: Patient is a 61 year old male weighing 235 lbs, diagnosed with type 2 diabetes eleven years ago. Since then he has neuropathies in his lower extremities. In addition, he has pitting edema in his lower extremities, drop-foot in both ankles resulting from a pinched nerve at L4-L5 vertebrae caused by two car accidents.
He is taking lipericide, actose, and metaformin for diabetes. Lipitor for high cholesterol, arginine for erectile dysfunction, american ginseng for fatigue, and psyllum husk for normal bowel movements.
Symptoms: Fatigue when walking upstairs, standing for a long time worsens his main complaint. He doesn't complain of frequent urination, frequent hunger, or frequent thirst. He does not have any desire for food or drink. His blood sugar levels range from 200 to 300.
Palpation: The pulse was deep, slippery, and rapid.
Abdominal palpation showed that his entire abdomen felt cold to the touch.
Observation: His tongue was pale, swollen, toothmarked with a wet coating.
OM Diagnosis: Spleen and Kidney Yang deficiency with dampness and water accumulation with blood deficiency
Treatment Principle: Drain dampness and water, astringe the spleen, tonify the Spleen and Kidney Yang, nourish the blood
Point Prescription: St-36, Sp-9, Sp-3, St-40, St-41, Cv-6, Cv-9 and St-28 with needle-head moxa.
Herb Prescription: None.
Lifestyle Prescription: Eliminate coffee with Sweet N' Low completely. Include garlic, ginger, and cinnamon into his diet to promote warmth in his body. The other function is to help drain excess water built up in his legs.
Results: After twenty treatments, the patient noticed 95% improvement in the strength in his legs.
Synopsis: He was receiving treatment for his drop-foot too. The improvement that was noticed by him was 50%. The upper and lower back pain that was also of concern was alleviated through sliding cupping.
Name: Billy Shonez Singh
Credentials: MS, L.Ac. (NCCAOM)
Clinic Name: Red Rooster Acupuncture
Street address: 6143 Jericho Turnpike, Suite 102
City: Commack
State: New York
Zip: 11725
Country: USA
Phone: (516) 557-6112
Email: suma@optonline.net
Specialties: Pain Management, stress, anxiety, diabetic complications, facial rejuvenation
Website: http://www.zenohs.com
---
This case is a good example of treating what you see, rather than the Western diagnosis.
Mr. Singh notes that "He doesn't complain of frequent urination, frequent hunger, or frequent thirst." but rather presented with edema and fluid metabolism issues.
It is easy to fall in to the usual "upper, middle, or lower xiao ke (wasting and thirsting)" when we hear the word "diabetes" but we should also remember that long before diabetes presents with a yin deficiency of the upper, middle, or lower burner, that there are oodles of other presentations including this Kidney water overflowing, or Yang deficiency, however you want to look at it.
It can be difficult to ignore the Western diagnosis sometimes, but nonetheless essential at times such as this.
-al.

Last modified: September 8, 2009

Tags: Acupuncture, ankles, diabetic neuropathy, legs, numbness, weakness В· Posted in: Metabolic, Neurological