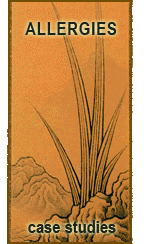 Chief Complaint: Hives with itchiness
Western Diagnosis: Allergy
Medical History: 37 female, full-time mother of two children.
Developed the Hive condition all over the body in Oct 2004.
Approx 30 lbs overweight. Went to a dermatologist to check for allergies but found none. Indicated that she can only wear gold/silver jewelries. She likes to eat Cheese but does not drink Milk, nor smokes. Has a mild scoliosis. Taking over-the-counter allergy pills but needed to take more recently (every 12 hours or more). She feels stressed taking care of kids and not getting enough sleep. She also reported a nagging lower back ache.
She never had a acupuncture before.

Last modified: September 8, 2009 В·

al В·

No Comments


Tags: Acupuncture, allergies, hives В· Posted in: Allergic, Dermatological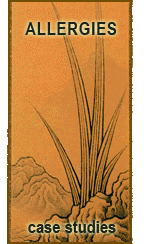 Chief Complaint: Rashes, heart burn and sudden onset fatigue
Western Diagnosis: Hives and Acid reflex associated with stress
Medical History: Patient is a 40 year old female, who generally is in good health. She has had hives since childhood, hives comes and goes. Anti-histamine medication or prednisone did not help in the past. She used to take patent herbs for a few days, the rashes would be gone for a couple of months. Wherever she did not get enough sleep or stressed out, the rashes showed up again. Also each time she got pregnant, she tends to get hives. She never had heart burn before, but sometimes has bloating and indigestion when she eats greasy food .

Last modified: September 8, 2009 В·

al В·

No Comments


Tags: abdominal, Acupuncture, allergies, fatigue, GERD, heartburn, Herbs, hives, rashes В· Posted in: Allergic, Dermatological, Digestive