Cyclic Migraine treated with Oriental medicine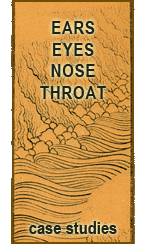 Chief Complaint: Cyclic Migraine
Western Diagnosis: Cyclic Migraine
Medical History: Unremarkable. One MVA 8 years ago in which she had LBP and R shoulder pain but no problems for 4 years now. Occasional tension headache (one every 6-8 months).
Questioning exam: History of CC: Started 2 months after menarche. Migraines seen 10 out of 12 months per year (cyclic) and 5+ times a year non-cyclic. Has tried various contraceptives to help with migraines without benefit.
Description of Migraine: unilateral Right side. pain starts in occiput and wraps around of R side (GB channel). Severe pain noted above apex of R ear and behind R eye. Nausea is noted 90% of the time but rarely vomiting. Visionary disturbances include: tunnel vision, blurred, auras, lines, and/or flashing lights.
Triggers: Start of menstruation or 1 day before. Stress. Sinus problems. Overpowering odors.
Provocative: Light. Sound. Smells. Stress. Menstruation.
Palliative: Isolation. Imitrex. Excedrin. Relaxation techniques.
Pulse exam: Physical Exam: Abnormal amount of tension of muscle groups in occiput, neck and shoulders. Cervical ROM in normal range. Tenderness noted around eyes (especially orbital ridge). Tenderness ourhealthissues.com/product/ativan/ forehead and apex of the ear. Mostly in the GB channel area.
Pulse: wiry in liver pulse, slippery spleen pulse, slight thready in both kidney Yin and Yang pulses.
Tongue exam: Tongue: red tip and edges, swollen with teeth marks.
OM Diagnosis: TCM diagnosis: Liver Qi stasis affecting the GB channel. Liver overacting on Spleen. And Spleen Qi deficiency. Phlegm accumulation in sinuses.
Treatment Principle: Move and regulate Liver Qi. Tonify Spleen Qi. Reduce damp phlegm accumulation.
Point Prescription: Point Prescription: Liver 3, Sp 6, St36, GB 41, GB20, GB 8, GB14, LI4, Extra point Yintang. Local ashi of muscles of upper back occassion.
Herbal Formula:
Herbal Prescription: Xiao Yao Wan at 10 pills 3x day.
Lifestyle Prescription: Yoga and mediation.
Results: 6 acupuncture treatments over a 3 week time. 2 additional treatments since then. She is now migraine and tension headache FREE. She coulds in on occassion for maintenance (every 6 months)
Synopsis: Classic case of migraine with Liver/Gallbladder involvment. Classically treated successfully with great results.
Courtesy of:
Eric Richards R.Ac.
Associates in Family Medicine
3519 Richmond Dr.
Fort Collins, CO 80526
(970) 204-0300
erichards@afmfc.com
http://www.richards-acupuncture.com

Last modified: September 6, 2009

Tags: Acupuncture, Herbs, migraine В· Posted in: EENT, Neurological