The Treatment of Chinese Medicine for Scleroderma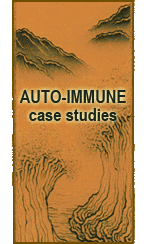 Chief Complaint: Joints pain for over three years
Western Diagnosis: Mixed connective tissue disease, pulmonary hypertension, scleroderma.
Medical History: A 23-year-old woman was admitted to clinic on May 5, 1997, because of joints pain around all body for over three years, skin and eyes dry, thirst and wants to drink cooled water, almost joints sour and tip of fingers' color change to purple and whit when the weather become to cold, loss hair. Her skin on arms are dry and peeled off. She used to treat by acupuncture and Chinese herbal medicine, the symptoms were reduced but that never goes away. Recent years, she has had sense of oppress in her chest, and difficult to breath, asthma attack when she walk or go up stairs, those symptoms are gradually getting worse, but nothing could help. During 12/03-12/18/1996, she had had a high fever and went to Johns Hopkins Hospital was diagnosed as mixed connective tissue disease, pulmonary hypertension, scleroderma.
Questioning exam: 06/27/97 University Maryland Clinic Center:
Total Protein 10.3(6.3-8.2)MG/DL
Albumin 4.2(3.5-5.0)MG/DL Globulin 6.1(1.8-3.7) MG/DL
ALT 65 (9-52) U/L AST 54(14-36)U/L
LDH 672 (313-618) U/L
On February 11,1998, her right heart catheterization and vasodilator trial, her baseline pulmonary arterial pressure was 66/24 mmHg with a mean of 38 mmHg. She had a CVP of 9 mmHg and a wedge of 7 mmHg. Her cardiac output was 3.2 L/min. In response to vasodilator trial with nitric oxide and subsequently prostacyclin, she had no significant change in either pulmonary arterial pressure or cardiac output. (Dr. Sean P. Gaine, MD/ University of Maryland School of Medicine)
Pulse exam: puls was thready and rapid.
On physical Examination: red face with several rashes, harder than normal skin. The color of fingers is purple and pale, http://buyclomidovulation.com press it could change color. Peel skin on arms, scratch track on back and limbs' skin.
Blood pressure was 123/86, heart rate 110, lungs sound clear, weight 117 pounds, had no edema.
Tongue exam: red tongue with cracks in the middle
OM Diagnosis: Blood-heat, and liver, kidney Yin deficiency
Treatment Principle: Removing the heat from blood and dissipating blood stasis, nourishing the liver and kidney
Herbal Formula: Shendi 12 Chishao 10 Baishao 10 Taoren 6 Huanghua 6 Xiakucao 10 Dangkuiwei 10 Luzenzi 10 Hangliangcao 10 Zicao 12 Dangpi 10 Tufulin 20 Zhimuo 10 Shigao 20 (cook first)
Lifestyle Prescription: no spicy food, no smoking and less sea food
Results: Four years latter, Ms. Gong has had not any pain in joints, no feeling of pressure in the chest, no eyes itch. On physical examination shows that face skin is smooth, no peel skin on both arms. Blood pressure 110/80mmHg, heart rate 85, heart sounds unremarkable. Lungs sound clear. No edema.
On 4/17/01, The Johns Hopkins Bayview Medial Center: AST 20 (0-30) U/L, ALT 19 (0-30) IU/L AKP 53 (30-120) IU/L. On 11/06/2000: Tot.Prot. 9.1(6.3-8.5) G/DL, Albumin: 4.2 (3.7-5.2)G/DL, Glubulin: 4.9 (1.4-4.5) G/DL, A/G ratio: 0.9 (0.9-2.6).
On June 11, 2001, her right heart catheterization, pulmonary hypertension: absent, baseline: 1.2. (Dr. John J. Warner, MD/ DUMC)
On 08/22/01, her sonographer shows: Normal left ventricular systolic function. Normal RVSP estimate. ( S. Ganesh, MD/ John Hopkins Bayview Medicine Center)
Synopsis: When patient came to me, she was given only a few months to live. Her doctor suggested her to transplant lungs. But she would not like to do so. She is still alive. She has no any symptoms right now and her lungs are normal.

Last modified: September 8, 2009

Tags: Acupuncture, asthma, scleroderma В· Posted in: Auto-Immune