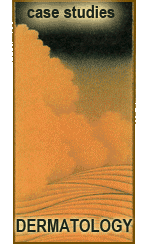 Chief Complaint: Vitiligo
Medical History: This is 37 years old male suffering from vitiligo for almost 12 years. No history of vitiligo in family.
Questioning exam: fatigued, pale skin color, brittle nails, dry and warm eyes, frontal headache, numbness on both legs and hands, poor memory, insomnia with dream disturbed sleep, hair falling out, right hypochondriac pain, constipation, some times ringing in ears, low back pain with frequent urination (two times per night) low sex drive.

Last modified: September 6, 2009 В·

al В·

No Comments


Tags: Herbs, vitiligo В· Posted in: Dermatological