Acupuncture and Chinese Herbs for Stress Responses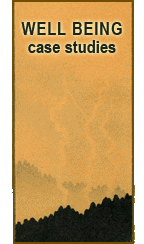 Chief Complaint: Stress with accompanied symptoms is his chief complaint.
Medical History: Patient was seen for the first time in February of 2001. This was his first experience with acupuncture.He appeared anxious.His work is in selling bonds and he is not really happy with the job situation. Stress and the following symptoms were discussed:here was a past history of indigestion and chest pains. He exercises frequently and tries to watch his diet. His father died at 72 of heart disease . He used alcohol regularly and drinks 2 cups of coffee daily. Sleep can be irregular and takes Valerian and sometimes sleeping pills.
Questioning exam: Heartburn- daily taking antacids to relieve symptoms
Palpitations and anxiety
Headaches for 2 weeks orbital sides and vertex on the right side with slight nausea.
Some arm and leg twitching which improved with water intake.
Skin is dry and itchy with patches of rashes.
Occasional dizziness
Spontaneous sweating
Bitter taste in the mouth
Sleep was irregular accompanied by nightmares
Tinnitus with high pitch
Some depression.
Continuous hunger
Pulse exam: sting taut and thready/ rate: 75 bum
Tongue exam: Red, slightly scalloped with red tip. / thin yellow fur.
OM Diagnosis: GALLBLADDER OVERRIDING STOMACH.
Treatment Principle: Treatment Principle: SEDATE GALLBLADDER, CALM SPIRIT.
Point Prescription: Points: R-gb 41, K-6, du 24 Left. H7/ sj 5
Herbal Formula: HERBAL TREATMENT: MODIFIED WEN DAN TAN
ZHU RU2
ZHI SHI 2
BAN XIA 3
CHEN PI 2
FU LING 4
GAN CAO 1.5
SHENG JIANG 1
SUANSAO REN 5
LONG YAN ROU 3
MAI MEN DONG3
Lifestyle Prescription: Reduce alcohol consumption
Results: He report significant improvement with many of the initial symptoms. His palpitations were reduced, nausea was gone. Sleep had improved but still reported some nightmares and wakes up easily. He feels tired when arising. He is thirsty without the desire to drink. Fear is the primary emotion with anxiety. The skin reaction has worsened with rash and hives. Patient continued to improve with most of the initial heartburn and nausea symptoms reduced. Sleep continued to improve with no nightmares or night sweats. Patient was given Wen Dan Tan Powder to take conveniently at work. Slight bitter taste in mouth continued and patient still felt fatigued.
Synopsis: For me this case clearly validated the TCM holistic systems approach to diagnosis and treatment. This case was almost classical in the signs and symptoms for Gallbladder http://www.eta-i.org/tramadol.html excess. Western medicine doesn't have any equivalent diagnosis, except to treat the heartburn and stomach dysfunction. The patient noticed a great improvement of the wide range of symptoms accompanied by this syndrome. After one month on the modified Wen Dan Tang he missed 2 weeks and the symptoms returned. He also had increased benefits when he took the powdered formula in the mid-afternoon. Traditionally the Gall Bladder is an extraordinary organ and curious. It is Fu in that it excretes bile, however it also stores bile. The Gallbladder does not communicate with the exterior of the body as do the rest of the Yang organs. Disharmony between the Gallbladder and Stomach (the wood and earth )leads to heat and phlegm. The heat in the stomach causes the gnawing hunger. heat in the gallbladder has symptoms of bitter taste, yellow tongue coating, bowstring pulse. The phlegm and heat together cause irritability, insomnia, palpitations and anxiety. This patient had all of these symptoms. Wen Dan Tang clears the heat with Zhu Ru, Zhi Shi helps break up the stagnation and distention. . Er chen tang is included to address the phlegm . Because the patient was having insomnia and so the formula was modified to with suan zao ren , mai men dong and latter mul li and long gu. Dang Shen was increased to to the increased indications of Qi deficiency and fatigue.
The acupuncture treatment also were very effective for this patient.
The points used :
GB-41- confluent of the Dai meridian. Good for excess conditions.
Heart 5- for the heart phlegm
Du-24- to clear the mind and settle spirit.
Kidney 10- good for mental disorders , also this patient has some knee pain.
Pumping cords were used on Sp 4/ P6 to help with the nausea and calms the mind.
The patient did feel relief after this mode of treatment.
Other points to consider for future treatments would be :
St 40, Liv 14, Back – shu points, Heart 7, Liv 3,
This case demonstrated for me the effectiveness of Chinese medicine when a correct diagnosis is made. This patient will probably continue to use acupuncture and herbs to balance his health and maintain wellness.

Last modified: September 8, 2009

Tags: Acupuncture, Herbs, stress В· Posted in: Well-Being