Intraepidermal Squamous Cell Carcinoma Treated with Chinese Medicine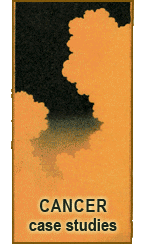 Chief Complaint: "Severe dysplasia of vulva and rectum". Secondary complaint of "recurring shingles due to weak immune system".
Western Diagnosis: Bowen's Disease. AKA- Intraepidermal Squamous Cell Carcinoma.
Medical History: This woman, age 42, works as a Hollywood talent agent, where intense stress is a minimum daily requirement. Her dysplasia issue began or was diagnosed 18 years prior to this treatment (10/9/01). She had received seven surgeries and/or laser treatment to excise the malignancy sites over that time. Her first malignancy operation was in 1984 with the other surgeries occurring periodically to 1999. As a young woman she had a history of menstrual problems, including "bursting" cysts and tumors (fibroid ?), had one ovary removed at age 19 and eventually a total hysterectomy in July of '99. She was taking Nexium to treat her job related ulcers. She had daily "migraine" headaches and was taking Imitrex. She had an overactive bladder and had a prescription for Detrol to treat that problem.
Exercise was minimal and because of her job pressures she drank a lot of Latte's and she smoked She recently started to eat junk food because she wanted to gain weight after losing 35 lbs. in a seven month period
Questioning exam: Because of her long allopathic medical history she brought her diagnosis to me, although no medical reports or test results were offered. I had to interpret that diagnosis in the TCM paradigm and prioritize my treatment to her most serious problems, cancer, headache, urination. At the time of our initial visit she said she wanted to "try anything" to improve her condition before her next visit with her oncologist in 2 weeks, so that, hopefully, she could avoid yet another painful surgery. The symptoms she complained of in addition to the previously mentioned were: shoulder/neck pain, palpitations, insomnia, loose stools, AM fatigue, weird red bruises on legs, worried about everything (life), pain in mid-back, low libido, PM fatigue but can't sleep, and stomach pain.
Pulse exam: The pulse overall was choppy with an irregular missed beat. The rate was generally 64 +- beats a minute, but the rate varied from a fast rate which would slow gradually to it's missed beat, then it would resume a more urgent pace. Both sides were wiry, the left side was thready and the right side slippery, with the Lung position superficial and the Spleen position weak/deep. She reported a history of low blood pressure -89/?.
Tongue exam: The tongue body was small and red, with a lurid red tip. The front/side 1/3rd swollen and wider than the back 2/3rds. The tongue coating was thick and yellow in the back 1/3rd.
OM Diagnosis: Systemic Blood-Heat-Toxin, especially in Chong/Ren. Liver Qi/Blood Stagnation leading to Liver Fire. Xu of Qi, Blood, Yin, and Wei Qi. Damp-Heat Obstructing Lower Jiao.
Treatment Principle: Help her.
Point Prescription: There were four treatment sessions (10/9, 15, 19, 23) with 20-33 points needled, plus Ear points, each time. There was a problem with her ability to retain body needles for longer than 10 – 15 mins. due to her need to urinate, so not all points were needled bilaterally. Every treatment contained: LI-4, 10, Yintang, SP-4, 10, with some Liver, GB, and Stomach points. The variations, as symptom complaints changed, were: LI-11, LU-7, 9, SJ-5, Taiyang, GB-14, 34, 41, 43, Liv-2,3,5,8, SP-6, 9, ST-25, 36, 40, 41, K- 3, 27, UB-28, 32, and DU-14.
Ear points (5-10 per treatment) were selected from: Shenmen, Endocrine, Heart, Ext. Genital, Vitality, Thymus, Thalamus, and Rectum.
Herbal Formula: The first treatment I recommended Ba Zheng San patent 12 pills/3x. The next time I changed to Zhi Bai Di Huang Wan 12/3x because I thought it was more of a deficiency issue. I then wrote and ordered a custom powder formula from Qualiherb based on Yin Qiao Hong Teng Jie Du Tang which she got on her third visit. I named it "Linda's Latte'" and it contained:
Jin Yin Hua, Lian Qiao, Hong Teng, Bai Jiang Cao-20 (raw gram), Dan Shen, Yi Yi Ren, Xi Yang Shen-15, Chi Shao, Bai Shao, Tao Ren, Fu Ling-12, Mu Dan Pi, Yan Hu Suo, Chuan Lian Zi, Xiang Fu, Gan Cao, Sha Shen, Zhu Ling-9, Zhi Zi-6, Ku Shen-4. I recommended 9 gram spoons a day to start, and to gradually work up to 20 a day, 1 hour before eating.
Lifestyle Prescription: None. Like many smokers she knows it's not good, but job pressures support her smoking or cause her to return after periods of no smoking.
Results:
Dysplasia: Unknown
Headache: Unaffected
Urination: Unchanged
Insomnia: Reports able to sleep 8
hours on night before 4th visit
Pulse: mild missed beat by third visit,
didn't slow down/stop by 4th visit,
also, not as weak in the Spleen position.
Tongue: less luridly red overall and less area of red around tip
Synopsis: Considering the drastic nature of her general health condition and the limited time schedule I can't complain about the results. In some ways she was not a good candidate for Acupuncture because she could not retain the needles for very long and because she was also paying a lot of cash to her numerous medical doctor specialists (insurance tapped out) she couldn't afford to continue with me, especially if I wouldn't "guarantee" the results with a percentage survival/improvement prognosis number the way her "real" doctors do. She also found the powder formula to be the worst tasting experience of her life, but reported that she took 6 spoons/3x in the four days she had it between visits #3 and #4. She was going to see her oncologist the next day after treatment #4 and did not return after that. She called 10/31 to report that the formula had caused a throat irritation, with redness and swelling around her uvula, which stopped when she terminated her herb intake. I did not ask her if she had any changes in her smoking habits in that same time period. Because it was clear that she was not returning or continuing with herb therapy no adjustments were recommended to her.
I like working with this type of difficult and challenging chronic case (although I like having a more cooperative person to work with) and was heartened by the improvements we were able to achieve in a limited time, with limited financial resources, and with a limited number of treatments.

Last modified: September 8, 2009

Tags: Acupuncture, carcinoma, Herbs, vulva В· Posted in: Cancer