The Herb and Acupuncture Treatment of Psoriasis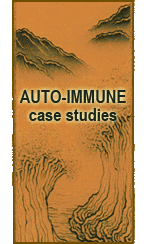 Chief Complaint: red itchy skin
Western Diagnosis: psoriasis
Medical History: 38 year old male with psoriasis for 10 years. He believes it was caused by photo-processing chemicals. He has been treated with steroid-family injections but relief is temporary. He also uses creams, Ultravate and Duvanex to control itching. His pulse is slow and he exercises regularly.
Questioning exam: He states the psoriasis lesions worsen in winter, with stress, and possibly with spicy food.
Pulse exam: Slow, wiry cun (right) is slippery weak.
Tongue exam: red dusky tongue grey dry coating
OM Diagnosis: Heat in the blood lung and liver
Treatment Principle: cool blood, clear lung and liver heat
Point Prescription: GB20, LI11 Li4 SP10 Li2 GB43 SJ10 YinJang
Herbal Formula: Huang Lian Jie Du Tang
Lifestyle Prescription: less spicy food, no alcolholic drinks
Results: One week later he reports it's better, his lesions are thinner and less red.
Courtesy of:
Quli Zhou L.Ac., OMD
Eternal Health Acupuncture Center
1848 Saratoga Ave, #2
Saratoga, CA 95070
408 379-6638
doctor@myeternalhealth.com
http://www.myeternalhealth.com

Last modified: September 6, 2009

Tags: Acupuncture, psoriasis, skin В· Posted in: Auto-Immune, Dermatological