Simple Pulse Qualities: Shape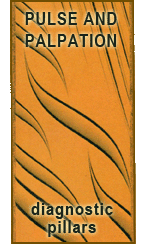 Shape: slippery-choppy
The unique qualities of the slippery and/or choppy pulse are its wave shape.
The slippery pulse is smoothly rising, then dropping. This isn't so much a mechanism as much as a key identifying trait. The mechanism for this wave form will be discussed later. Are you in a hurry or something?.
The choppy pulse is given a rough shape as is plainly indicated in the graphic on this page.
You can also see how we'd describe the wave form of the flooding (surging) and taut or wiry pulse.
Next: pulse tension.

Last modified: August 16, 2009

Tags: Diagnosis, Palpation В· Posted in: Pulse Class, Pulse-Palpation