Acupuncture Treatment of Golfer's Elbow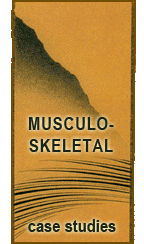 Chief Complaint: Pain in right forearm near the elbow
Western Diagnosis: Golfer's elbow
Medical History: Since a month ago, patient has pain in right forearm. It's localized sharp pain that aggravates when patient tries to lift something and playing golf. 9 out 10 in pain scale and pain has been consistent since the beginning. Irregular diet, plays golf regularly, rides motorcycle occasionally, smokes 10 cig/day.
Questioning exam: sharp pain increase w/ exertion.
answers to the ten questions were insignificant.
Pulse exam: weak bilateral kidney pulse
overall slippery and wiry bilaterally
Tongue exam: Purple, red dots thin yellow coating
OM Diagnosis: Bi Syndrome. Blood stagnation. Seems like patient strained the muscle in his right forearm from http://pharmacy-no-rx.net/levitra_generic.html playing golf and riding his motorcycle. So, the blood is stagnated in that particular area and has pain in the area.
Treatment Principle: Let the blood flow properly w/o stag.
manage the pain
Point Prescription: Tuina and infrared on the problem area.
acupuncture points: LI4, LI10, LI11, ASHI points.
Herbal Formula: N/A
Lifestyle Prescription: cut down on smoking, drink more water, stretch exercise, go easy w/ playing golf and riding bike.
Results: First visit, his pain level was 9/10
Second visit, he said pain level went down to 2/10. Result was really good.
Clinic Name: Better Health Clinic
clinic address: 1442 Irvine Blvd #125
Tustin, CA 92780
clinic phone number: 714-505-1901
email address: dramychoi@yahoo.com

Last modified: September 8, 2009

Tags: Acupuncture, elbow, pain В· Posted in: Musculo-Skeletal