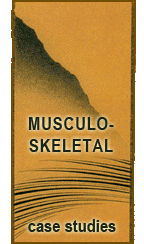 Chief Complaint: Pain and immobility of hand
Western Diagnosis: Hand Crush Injury.
Medical History: Crush injury of right hand during work-accident.
Questioning exam: Continuous pain in right hand, immobility of hand and fingers with exacerbation of pain with movement. Insomnia, decline in libido and sexual performance since injury.
OM Diagnosis: Injury of PC channel, with attendant symptoms of PC organ, causing insomnia and sexual and libido decline.

Last modified: September 8, 2009 В·

al В·

No Comments


Tags: Acupuncture, tissue trauma В· Posted in: Musculo-Skeletal