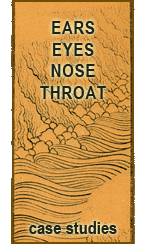 Chief Complaint: Inability to swallow solid food
Medical History: Patient was a four year old girl who had been unable to swallow solid foods for almost two weeks. She had been taken to her M.D. who was unable to find any medical reason for the problem.
Her father brought her to my office and was unable to identify any emotional trauma which might have triggered the problem. Fortunately, she was able to swallow small amounts of liquids, so was not overly dehydrated.

Last modified: September 6, 2009 В·

al В·

No Comments


Tags: Acupuncture, swallow В· Posted in: EENT, Neurological, Well-Being