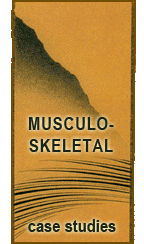 Chief Complaint: muscle spasms
Medical History: Patient presents as 37 year old female. "Perfect health" until onset of current symptoms 5 months ago. Active lifestyle- feels best after exercise. Well balanced and moderate diet. Non-smoker, occasional wine, coffee daily.
Questioning exam: Onset of Symptoms: 5 months ago (symptoms started appearing shortly after giving birth). First symptom was closing of the eyelids. She was forced to hold her eyelids open with her fingers about 70% of the time. A few weeks later, her vocal cords tightened over the trachea and restricting breath. On her third trip to the ER, she was given a tracheostomy tube which she is still breathing through. Her vocal cords were then injected with botox in attempt to relax them. She then began suffering from dystonias in her neck, causing intense pain, rigidity, and a "bobble-head" appearance. She has seen 5 neurologists, who have prescribed a myriad of drugs from anti-anxiety to muscle relaxants to more botox. The drugs did not help her, but did cause unpleasant side-effects.

Last modified: September 8, 2009 В·

al В·

No Comments


Tags: Acupuncture, Herbs, spasms В· Posted in: Musculo-Skeletal