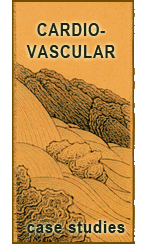 Chief Complaint: calf pain and swelling
Western Diagnosis: phlebitis
Medical History:
1.Recurrent phlebitis on left calf-had same exact symptom seven years ago. He took Chinese herbal medicine and the symptoms were completely gone. It took 6 weeks to cure it.
2. smoker
3. lost his right leg on auto accident
4. doesn't drink alcohol but drinks a lot of water
5. He delivers auto parts-driving 8 hours per day. He used to work at a post office where he had to stand for 8 hours per day, again
6. His blood pressure and pulse rate is normal.

Last modified: September 8, 2009 В·

al В·

No Comments


Tags: Acupuncture, Herbs, phlebitis В· Posted in: Cardiovascular, Musculo-Skeletal