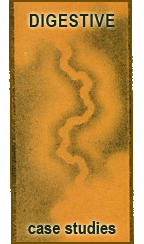 Chief Complaint: Fatigue, nausea and loss of appetite.
Western Diagnosis: HIV Positive
Medical History: Male, 33 years of age, 5'10", 175 lbs., full time student/part time bartender. Diagnosed HIV positive in 1989 remaining healthy with no complications. Currently (2002) and since 1996 patient on triple drug therapy of Indinovir, 3TC and AZT due to high viral load. Current viral load measures 200,000 copies per milliliter. Most notable side effects are chief complaint of fatigue, nausea and loss of appetite. Irregularly exercises, meditates and practices Qi Gong daily. Eight hours of sleep consistently but restless with dreams most nights, Excellent organic non vegetarian diet, mealtimes at regular hours 3x daily. Exposure to smoke daily.

Last modified: September 8, 2009 В·

al В·

No Comments


Tags: Acupuncture, fatigue, Herbs, HIV, nausea В· Posted in: Digestive, Infectious, Metabolic