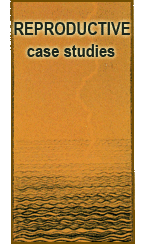 Chief Complaint: Low Libido
Medical History: The patient, RR is a 35-year-old male, approximately 5'10" tall and 180 lbs. His chief concern is low libido. The patient has had a normal libido for most of his adult life; however, six months ago he began having a lack of sexual desire.
RR states that he has led an active life, exercises regularly and is currently training for the Portland Marathon. He has been partnered with a woman for four years now and had a mutually satisfying sex life until six months ago. His partner is a 45-year-old female with two children from a previous relationship. The couple would like to have another due to RR's age and lack of children. The patient is a financial adviser for an insurance company, which until this last summer was very stressful. He now enjoys less stress due to a promotion and hours that are more regular. His only other health concern is that at an annual exam two years ago his doctor found, due to a heart murmur, that he has a bicuspid valve rather than a tricuspid valve in his heart at an annual exam two years ago.

Last modified: September 8, 2009 В·

al В·

No Comments


Tags: Acupuncture, Herbs, libido В· Posted in: Reproductive