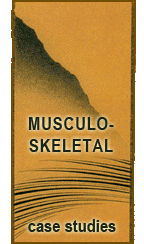 Chief Complaint: Left Heel Pain
Medical History: At age 14, he was diagnosed with polio. And ever since then fear has been one of the predominating emotions in his life. In 1997, he voluntarily underwent a vasectomy. He felt this would allow him to engage in a fulfilling sexual lifestyle, without the worry of ever having any children.
He is a tall man, standing over 6'5, and possessing a very muscular physique. He is also currently undergoing marital strife, as I also treat his wife as well. There are seeking marriage counseling.

Last modified: September 8, 2009 В·

al В·

No Comments


Tags: Acupuncture, heel pain, Herbs В· Posted in: Musculo-Skeletal