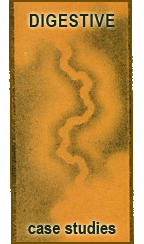 Chief Complaint: Heartburn and pain in epigastrium
Western Diagnosis: Chronic gastritis
Medical History: In the last five years, the patient had very stressful life when she studied in college and tried to find a job. Her eating was not in a regular base and she did not do any exersise.
Questioning exam: She always felt fullness and dull pain in the epigastrium especially if she got upset or angry, the situation got worse. Some times she also felt the fullness or pain in hypochondria area. She was in fatigue all the time and the appetite was poor. Occasionally she had diarrhea.

Last modified: September 8, 2009 В·

al В·

No Comments


Tags: Acupuncture, gastritis В· Posted in: Digestive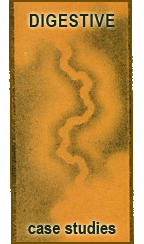 Chief Complaint: Abdominal Pain
Western Diagnosis: Acute Gastritis
Medical History: Patient is a 30 year old female student. Average diet. In general runs cold and damp with underlying KID yang def.
Questioning exam: Patient had pain in lower abdomen and left lower quadrant following a night of drinking ETOH (Ethyl Alcohol i.e. beer and alcohol) and greasy foods. Felt burning dull achy pain in LLQ. Loose stools with burning at evacuation.

Last modified: September 8, 2009 В·

al В·

No Comments


Tags: abdominal, Acupuncture, gastritis, pain В· Posted in: Digestive