Pulse Qualities and Mechanisms (A Quick Guide)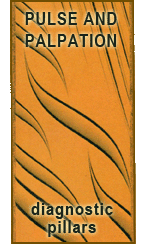 Pulse diagnosis is among the more difficult aspects of Chinese medicine to master. One reason for this is incomplete education.
In this article, pulse qualities are described, along with the mechanisms behind these findings and of course their therapeutic indications.
Understanding mechanisms simplifies this study greatly. Complex pulses such as the soggy (ru mai) aren't so complex when you understand the basis for it's quantifiable parameters.
SPEED
FAST
SLOW
STRENGTH
FORCEFUL
FORCELESS
LENGTH
LONG
SHORT
WIDTH
WIDE
THIN
DEPTH
SUPERFICIAL
DEEP
RHYTHM
REGULAR
IRREGULAR
ABNORMAL PULSE SHAPES
CHOPPY, WIRY, SLIPPERY
FAST AND SLOW
PULSE
INDICATIONS
MECHANISM
Fast Pulse
Heat
Heat accelerates movement.
fast+forceful
excess heat
fast+thin
deficiency heat
Slow Pulse

Water element pulse

cold
Cold impedes movement. The so-called "Athletic Pulse" is also a slow pulse, but it only indicates cardiac health.
FORCEFUL AND FORCELESS
PULSE
INDICATIONS
MECHANISM
FORCEFUL Pulses
excess
Surging Pulse
(floating, wide, forceful, comes stronger than it goes)

Fire element pulse

excessive heat
Heat stimulates the Heart's function of commanding the Blood leading to increased cardiac output and the forceful pulse. However, heat damages the yin, which leads to a component of deficiency in this pulse. The deficient component is the downslope of the pulse wave which is weaker than the upslope of the pulse wave. Also, this is often considered a floating pulse. When the yin is damaged, it loses its root and floats.
Forceless Pulses
deficiency
deficiency of Qi or Yang gives rise to the forceless pulse.
LONG AND SHORT
PULSE
INDICATIONS
MECHANISM
Long Pulse
excessive heat
Heat accelerates and expands. When the pulse is long and too forceful, this is excessive heat. When the long pulse is moderate in force, this is a healthy pulse.
Short Pulse
short+forceful
Qi stagnation
Stagnation prevents Blood from filling the vessel.
short+forceless
Qi deficiency
Qi can't push Blood hard enough to fill the vessel.
WIDE AND THIN
PULSE
INDICATIONS
MECHANISM
Wide Pulse
heat
wide+forceful
excessive heat
Heat accelerates and expands.
wide+forceless
deficiency heat
Yang expands the width of the vessel because Yin is too deficient to anchor it.
Thin Pulse
deficiency of Qi, Blood, or Yin
Qi, Blood, or Yin can't fill the vessel with fluid or pressure to expand the width of the vessel.
SUPERFICIAL AND DEEP
PULSE
INDICATIONS
MECHANISM
Superficial Pulse
Metal element pulse
superficial+forceful
exterior syndrome
Yang floats to the exterior (as Wei Qi) to fight off invasion of exterior pathogenic factor. This is reflected metaphorically in the superficial pulse.
superficial+forceless
Yin deficiency
Yang floats to the exterior because Yin cannot anchor it. This is reflected metaphorically in the superficial pulse.
Deep Pulse
deep+forceful
internal cold
pathological cold both injures Yang and impedes its rising. This is reflected metaphorically in the deep pulse.
deep+forceless
Yang deficiency
A deficiency of Yang gives rise to the inability for Qi and Blood to lift upwards. This is reflected metaphorically in the deep pulse.
REGULAR AND IRREGULAR
PULSE
INDICATIONS
MECHANISM
Regular Pulse
health
Intermittent Pulse
(regularly irregular)
Rather than focusing too much on the indications of this pulse, I want you to remember that this may be a red flag for you and a referral to a cardiologist may be indicated.
Abrupt Pulse
(rapid, irregular rhythm)
heat stagnation or stagnation heat
This pulse indicates stagnation that gives rise to heat, or heat that is causing stagnation. In either case, we have stagnation and heat.
Knotted Pulse
(slow, irregular rhythm)
Blood Stagnation
pathological factors (likely cold) impede movement of Blood
ABNORMAL PULSE SHAPES
PULSE
INDICATIONS
MECHANISM
Choppy Pulse
Blood Stagnation
choppy+forceful
Blood Stagnation
excessive pathological factors impede movement of Blood
choppy+forceless
Blood Stagnation
lack of Qi, Blood, or Jing leads to vessels that aren't filled which inhibits free flow of Blood.
Wiry Pulse

Wood element pulse

Stagnation
Nei Jing says "tendons are the mother of vessels" which is to say that when the Liver becomes dry, so do the tendons, which leads to a hardness in the pulse as it loses the vessels lose their flexibility.

---

Another mechanism is Qi stagnation prevents Blood from circulating outward and so the pressure remains high in the vessels causing the hard (wiry) pulse.
Slippery Pulse

Earth element pulse

Dampness
Dampness in the Blood increases its viscosity giving rise to a pulse that lacks corners.
Heat
Heat accelerates the movement of the Blood giving rise to the perception of the pulse losing its corners.

Last modified: September 11, 2009

Tags: Diagnosis, Palpation, study guide В· Posted in: Pulse-Palpation