Acupuncture Treatment of Infertility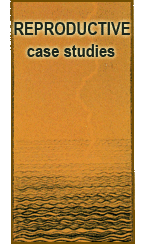 Chief-complaint: Infertility
Western-diagnosis: Unexplained Fertility
Medical-history: 27 year old female, unexplained infertility. Had been trying for four years to become pregnant. Active and fit.
Symptoms: Mild to moderate stress, depression and anxiety related to work and not getting pregnant.
No complaints of pain
No other remarkable symptoms.
Pulse & Palpation: Pulse wiry. Tender to palpation low back and SI joint. Very tight abdominal muscles from exercise routine.
Tongue: Tongue normal size and shape, slight dusky, with thin white coating. Physical exam revealed anterior R hip rotation.
CM-diagnosis: Qi and Blood Stasis, Liver qi stagnation
Treatment-principle: Move Qi and Blood, smooth Liver
Point-prescription: Supine treatment for 20 minutes: 4 gates, GB27,KI20, P6. Then prone, using UB15, UB17, UB18, UB23, UB25, UB29, UB31, UB32, plus ashi at SI joint. End of treatment used Tui Na and handheld electric stimulation on low back.
Herb-prescription: None
Lifestyle-prescription: Instructions on breath-work to relax abdominal muscles, stop caffeine.
Results: After four consecutive weekly treatments using this or slightly varied protocol, patient became pregnant.
Synopsis: Most cases of infertility involve kidney and spleen deficiencies and/or liver qi stagnation, but the primary reason for this patient's inability to conceive was primarily due to a lack of blood circulation in the pelvic region. Once the pelvic rotation was corrected and back and abdominal muscles relaxed, she quickly became pregnant.
Heidi Alexander
L.Ac
Modern Oriental Medicine
6059 S Quebec St #103
Centennial
CO
80111
US
303-773-1166
Infertility, pain reduction, and sports injuries
http://modernorientalmedicine.com

Last modified: September 16, 2010

Posted in: Reproductive