The Oriental Medicine Treatment of Myasthenia Gravis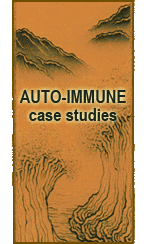 Chief Complaint: Weakness of four limbs
Western Diagnosis: Myasthenia gravis
Medical History: About 6 times bowel movements with diarrhea sometimes. Cannot breathe deeply. Feel like the brain can not order limbs any more.
Questioning exam: I looked at the patient, a middle-aged woman and started to make diagnosis according to my knowledge and experience. One week prior her breathing stopped all of a sudden with serious weakness of limbs. She was taken to a hospital and stayed there for 5 days.
At the time of our first treatment, she still found it difficult to breath and her four limbs were still weak. The lower limbs seem paralysed, the arms are so weak that she cannot lift a cup.
Pulse exam: Deep and weak pulse. The limbs are springy not good.
Tongue exam: Swollen and pale tongue.
OM Diagnosis: Qi deficiency, Wei syndrome.
Treatment Principle: The principle on the treatment of Wei syndrome:
1. Acupuncture: Only points along the Yangming meridian are selected in treating Wei syndrome.
2. Chinese herbs: Reinforcing middle warmer and replenishing Qi.
Point Prescription: Reinforcing:
LI: 4,10,11
R: 6,12
ST: 25,31,32,34,36,37,39
Acupuncture and moxibustion
Herbal Formula: Decoction of Reinforcing middle warmer and replenishing Qi( Bu Zhong Yi Qi Tang ):
Astragalus root 15g
Licorrice root 10g
Gigseng 10g
Angelica root 10g
Tangerinepeel 10g
Bighead atractylodes rhizome 10g
1 bag/day, drinking the herbal tea 2 times per day ( morning and evening after meal) Keep taking 10 to 15 days
Lifestyle Prescription: The patient still takes mestinon prescribed by Western medical doctor. In the period of recovery, the patient should have a light diet, do exercise every day.
Results: After 14 treatments ( twice a week ) the patient has recovered and lived normal life. Six months later the patient came back to see me and told me that she was able to play soccer now.
Synopsis: The Myasthenia gravis can be successfully treated with acupuncture, moxibustion and Chinese herbs. The earlier the patient receives treatment the better likelihood for complete recovery. Generally speaking, the treatment should be last for six to ten weeks.
Courtesy of:
Yiming Wang O.M.D., L. Ac.
Acupuncture and Herb Clinic
891 W. Arapaho Rd., Suite D
Richardson, TX 75080
(972) 680-0121
wang1259@aol.com
http://www.acupuncture.8m.com

Last modified: September 6, 2009

Tags: Acupuncture, Chinese, Myasthenia Gravis В· Posted in: Auto-Immune, Musculo-Skeletal, Neurological