Acupuncture and Herbs for Burning Foot Pain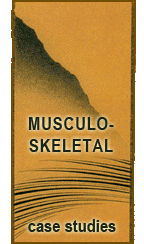 Chief Complaint: Severe burning foot pain
Western Diagnosis: Sciatica
Medical History: Patient suffered traumatic fall and damaged sciatic nerve resulting in burning foot pain
Pulse exam: slightly rapid and wiry
Tongue exam: pale pink body, thin white coat
OM Diagnosis: Decided not to treat root. Only treating branch, so diagnosis was channel obstruction or "blood stagnation".
Treatment Principle: Stop pain, Remove obstruction, Move blood
Point Prescription: Ear points: shen http://pharmacy-no-rx.net/viagra_generic.html men, occiput, brain. E-stim on shen men and occiput. GB31 opposite side
Herbal Formula: Yan Hu Suo Zhi Tong Wan
Results: After 10 treatments two times a week, patient could put weight on the foot and pain was 90% reduced.
Kerri
Westhauser
L.Ac., Dipl.Ac.
Kerri Westhauser, L.Ac.
803 West Broad Street, Suite 605
Falls Church
VA
20036
703-231-3930
kerriwesthauser@gmail.com
gastric disorders, gynecology/infertility
1330 New Hampshire Ave., NW Suite B4
Washington
DC

Last modified: September 8, 2009

Tags: Acupuncture, burning, foot, pain, sciatica В· Posted in: Musculo-Skeletal, Neurological