Acupuncture and Chinese Herbs for PMS & Irregular Cycles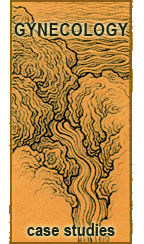 Chief Complaint: sinus headaches, PMS, irregular cycles
Medical History: Airline flight attendant, ie. irregular sleep and dietary habits
Questioning exam: eyes-itchy,runny,red,-wind and heat
H/A- temples, worse w/ stress and pms–liver related
H/A- sinus allergies,worse w/ odors and pollution- damp and phlegm
cycle- irregular, short- heat
cycle-starts dark w/ clots- blood stagnation—-by end 6 days looks pale and ashen- blood deficiency
Pulse exam: 5 element — block between small intestine and bladder. overall pulses wiry
Tongue exam: red dots on tip- depressive heat
slightly puffy and wet- damp
scalloped edges- spleen qi deficiency
OM Diagnosis: 5 element: fire' wood within
color- ashen w/ green
odor- scorched
sound- laugh w/ shout
emotion-lack of joy/ frustration
8P: Liver qi depression, spleen qi deficiency, blood stagnation and blood deficiency
rationale: tongue diagnosis, menstrual cycle data above
Treatment Principle: 5 Element- clear II/III block and tonify SJ/ PERICARDIUM
8P; Course liver qi, move blood in week leading up to cycle, then tonify blood and spleen qi after the cycle
Point Prescription: SI 19/ BL 1, SHU PTS AND SOURCE POINTS ON SJ/PC
LOCAL SINUS PT
DAI MO
Herbal Formula: XIAO YAO SAN
PEI MIN KAN WAN
10 FLAVOR TEAPILLS
Lifestyle Prescription: Increase fluid intake, neti pot if possible.
Results: Over the following weeks of treatment, the headaches have decreased. The herbs helped to bring her cycle back to 28 days, the PMS decreased and especially the headaches associated with the cycle.
Synopsis: Treatment has been very successful within two cycles.

Last modified: September 8, 2009

Tags: Acupuncture, pms В· Posted in: Gynecological