Acupuncture and Herbs for Menopausal Hot Flashes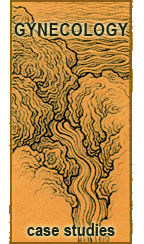 Chief Complaint: Hot flashes
Western Diagnosis: Menopause
Medical History: A 56 year old female presented with hot flashes. В She had undergone mastectomy and chemo therapy a year prior to her first visit at my office.
She had also undergone a series of Tibetan and Chinese herbal therapies for cancer treatment with a practitioner in another state.
With her history the patient wanted to avoid anything that might cause a recurrence of her breast cancer; that is she wanted to avoid any food and/or herbs with phytoestrogens.
Questioning exam: Patient had hot flashes mainly in the evening but with some flushes in the day. The flushes also interrupted her sleep.
Also lower back pain.
She also experienced anxiety and depression with irritability.
Her menses had ceased when she was in her late 40's.
Her BM's were normal as was her urination.
Pulse exam: Thin, tight and fast in both positions.
Tongue exam: Red and dry – no cracks.
OM Diagnosis: Liver and Kidney yin deficiency leading to upward rising of fire.
Treatment Principle: Quell fire, nourish the Kidney and Liver yin.
Point Prescription: I used Dr. Tang's balance method to control the hot flashes with local points on the lower back.
For the lower back pain:
Huato Jia Ji @ L4 (bi)
Yao Yan (bi)
UB 58 (bi)
SI 3 R, UB 62 (L), Ki 3 R
For the Hot flushes:
Left: Sp 6, 7, 9; Lv 3, LI 4
Right: St 36, Lu 7
The http://buyavodartsite.com combination of Sp6, Sp7, & Sp9 were used by Master Tong in controlling yin fire and is a very powerful combination.
note: He also used this combination for sexual dysfunction in men.
Herbal Formula: The key was to quell fire but to avoid any herbs known to have phytoestrogens (i.e., Shu Di Huang, Dang Gui, Sha Yaun Zi, She Chuang Zi, Jue Ming Zi, Hong Hua.)
The Formula that we chose is as follows:
Yin Tonic for treatment for Hot Flashes.
Zhi Mu: 9g (9% extract powder)
Huang Bai: Pi 7g (7% extract powder)
Mu Dan Pi: 7g (7% extract powder)
Xuan Shen: 7g (7% extract powder)
Chi Shao: 7g (7% extract powder)
Bai Zi Ren: 7g (7% extract powder)
Yuan Zhi: 8g (8% extract powder)
Zhi Zi: 7g (7% extract powder)
Di Gu Pi: 7g (7% extract powder)
Gan Cao: 3g (3% extract powder)
Fu Xiao Mai: 8g (8% extract powder)
Xiao Mai: 7g (7% extract powder)
Chai Hu: 3g (3% extract powder)
Qing Hao: 6g (6% extract powder)
Mu Li: 7g (7% extract powder)
Lifestyle Prescription: Mainly to avoid stress, via meditation and Tai Chi.
Results: The results were good as they greatly the number and intensity of the hot flashes.
Synopsis: The patient remains in remission and has not had a bout of hot flashes for over a year.
Clinic Name: Daniel Haun, L.Ac.
clinic address: 608 Vista Way
Oceanside, CA 92054
clinic phone number: (760) 803-6725
email address: dan@baileyhaunacupuncture.com
Website: http://www.baileyhaunacupuncture.com

Last modified: September 8, 2009

Tags: Acupuncture, anxiety, hot flashes, menopause В· Posted in: Gynecological, Metabolic, Well-Being