The Acupuncture Treatment of Poor Vision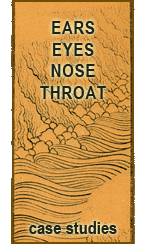 Chief Complaint: poor vision
Medical History: Patient was losing vision that could not be corrected with eye glasses. He was finally diagnosed after 3 years by a specialist at the Casey Eye Institute at the Univ. of Oregon Health Sciences Center. This disease is extremely rare and involves a type of hardening and twisting of the the eye. There is no treatment in Western medicine for this disease.
Questioning exam: His vision had been decreasing gradually for 8 years.
His vision was 20/60 in the affected eye.
His diet was slightly high in acidic foods.
Pulse exam: Pulses showed a deficient liver pulse.
Tongue exam: Not significant
Note: Patient had a severe scar on the foot from Liver 2 to Liver 3, from a wound sustained in the military.
OM Diagnosis: Deficient Liver Syndrome.
Possible effect of scar on foot
Treatment Principle: 1)Treat deficient Liver
2)Treat specific points for the eye.
Point Prescription: Liv. 3, Special point for eyes at distal joint of thumb, Bl.-1, TH-23,
GB -1, Special point Yu Yao (in foramen of supra orbital bone above midline of eye.
Herbal Formula: None
Results: His vision improve in the affected eye. Followup visual acuity test at the Casey Eye Institute showed his vision improved from 20/60 to 20/50 in the affected eye. Effect of disease was not only stopped but reversed. This has not happened in any other known cases.
Synopsis: This disease is extremely rare and their is no known treatment in Western medicine. All types of experimental drug treatments have failed. These results hold promise for this and other related eye diseases.
Courtesy of:
Gene Bruno Dipl.Ac, L.Ac., O.M.D.
Lancaster Acupuncture Center
1880 Lancaster Dr. NE, Suite 111
Salem, OR 97305
(503) 371-8770
acudoc27@yahoo.com

Last modified: September 6, 2009

Tags: Acupuncture, vision В· Posted in: EENT